Chito Ryu (pronounced "chee toe roo") is one of the oldest styles of karate in Canada. Chito Ryu karate offers participants excellent physical conditioning and strong mental discipline, as well as a proven method of self-defense. Instruction at all Chito Ryu clubs is given by experienced Black Belt instructors, registered in Japan with the All Japan Karatedo Chito-Kai and with the National Karate Association in Canada.
INTERNATIONAL FOUNDER
Karate, which translates as empty hand, is a devastating form of unarmed combat. Chito Ryu karate is a traditional Okinawan karate style founded by Dr. Tsuyoshi Chitose (below left). Characterized by blocks, punches, kicks and strikes, Chito Ryu karate is an ergonomically correct form of karate. It is designed to instill confidence and self-discipline while preparing the mind and body to defend against aggressive behaviour or assault.

O'Sensei

PEI Chito Ryu Karate is a member of the Canadian Chito-Ryu
Karate-Do Federation under the direction of Higashi Sensei,
(below)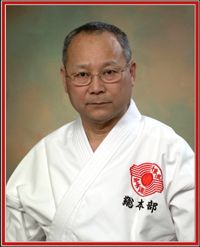 NATIONAL LEADER
Mr. Shane Higashi (right, Visit his website), 8th degree black belt and former karate champion, has been teaching martial arts for over 35 years. He is the chief instructor for over 80 Chito Ryu karate schools across North America and Europe, including the schools on Prince Edward Island. A member of the Technical Committee of the International Chito Ryu Karatedo Federation, he is also technical advisor for the National Karate Association (the governing body of Canada).
Prince Edward Island, Canada
The Prince Edward Island (PEI) Chito Ryu Karate Association is a non-profit organization dedicated to the preservation of the Chito Ryu style of Karate. The founding club was established in 1970 and held classes at St. Jeans Elementary School (in Charlottetown) until the end of 2005 (it has relocated to a new 3,200 sq.ft dojo in the Royalty Centre on Enman Crescent in Charlottetown).

Several clubs operate in PEI under the guidance of several, black-belt, senior instructors. For more information on PEI classes, schedules, fees & etiquette, go to the section on PEI DOJOS (or click here)


Sensei Armand Martin (above)
as Technical Head of Chito Ryu for PEI
has been in karate for over 30 years and
runs the West Island Karate Club in Elmsdale, PEI.


Sensei Ken Roper (above)
as the National Director representing PEI,
has been in karate for almost 20 years and
is the senior instructor in Charlottetown & Hunter River.

Philosophy

This Chito Ryu style of karate can be practiced by all ages. No special athletic abilities or flexibility is required. Chito Ryu karate, as a martial art, is designed for people of both sexes and of all walks of life. With its well- designed calisthenics to protect the body from injury, and painstaking attention given to the mastery of technique, Chito Ryu karate develops healthy bodies and sharply focused minds. These qualities are important at all stages of life. Children enjoy karate's brisk physical activity, and parents appreciate the discipline it instills in them.
To provide the best possible karate training, recognizing that each individual has different physical abilities.

To help dedicated students progress in the knowledge and skills of karate, thus maximizing their physical and mental potential.

To aim for the perfection of character for its participants.
To learn about the meaning behind the Chito Ryu crest - Click here
(Most of the text, above, is borrowed from Sensei Higashi's website)